Shoppers at MM Mega Market in District 12, HCMC
At present, several companies, supermarkets and department stores located in HCMC are eagerly preparing their goods for orders during the Quy Mao Tet holiday. Vice Chairman of the Board of Ba Huan JSC. Pham Thanh Hung said his company plans to increase production by 20 percent with a commitment to keep egg prices stable. Similarly, Vinh Thanh Dat Food JSC. will increase its egg production by 20-30% compared to the last Tet holiday.
Deputy General Manager Nguyen Dang Phu of Vissan informed that his company is allocating over 700 billion VND ($28.16 million) to manufacture products for this Quy Mao Tet holiday, a 20 percent increase from at the same time last year. Vissan will supply 2,000 tons of fresh food, mainly pork, and 4,200 tons of processed food, an increase of 30% and 10% compared to last year.
The "Têt spirit" also visits several supermarkets in HCMC like Co.opmart, MM Mega Market and Satramart. They launch various price reduction campaigns. Co.opmart, for example, increased its inventory by 30-50% for such campaigns. MM Mega Market is also predicting a 20-30% increase in merchandise for the upcoming Tet holiday, with a double surge in fresh food and sweets. The supermarket pays more attention to healthy products with a clear origin and closely monitors the fresh food market to provide the most competitive and stable prices possible to its customers.
There are only 2 months left until the Quy Mao Tet holiday, and companies are urgently preparing their high-quality goods. Supermarkets are strengthening material control procedures to ensure food safety. Moreover, retail sellers in wholesale markets like Hoc Mon, Binh Dien, Thu Duc also actively control the quality of their products. Some even invite agronomists to cultivate to give farmers detailed instructions on organic vegetables.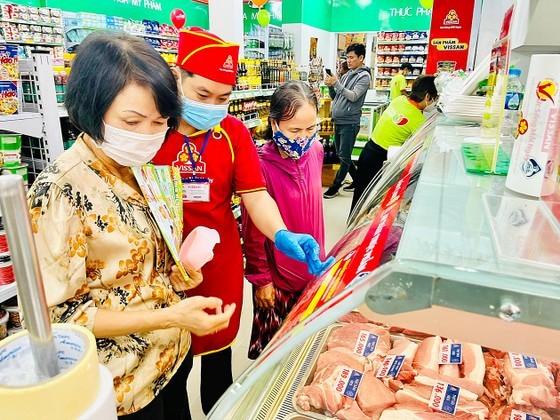 Shoppers at Satra Foods Tran Nao in Thu Duc City, HCMC
HCMC's Ministry of Industry and Commerce said it usually works with neighboring provinces to provide high-quality vegetables, meat and seafood to city dwellers. In addition, this department works with relevant state departments and agencies to identify the exact quantity of goods for the price stabilization program. As a result, participating companies will cooperate with distribution systems to reduce upward pressure on prices.

Simultaneously, the HCMC Ministry of Industry and Commerce will collaborate with the HCMC Market Management Authority to eliminate speculation and hoarding of commodities.
Notably, this month, HCMC will cooperate with other provinces and cities to organize the "Supply – Demand Connection" program, aimed at forming supply chains from producers to end users. The goods to be favored at present are local specialities, agricultural products, industrial consumer goods, goods with export potential.
Next month, HCMC plans to exhibit and trade consumer goods, foodstuffs and agricultural products from the South East and South West regions. In particular, from November 15 to December 15, 2022, the annual "Busy Spring Shopping" event will return, being a venue for displaying and promoting Quy Mao Tet holiday merchandise to HCMC consumers.