Since the very first days of the National Buffalo Museum in Jamestown, it has had a museum store to sell all manner of bison merchandise. The store, which recently found a new manager and buyer, Pat Taylor, sells everything from hats and clothes to mugs and books.
"As a buyer, I review some of the vendors Ilana (Xinos) has established over the years and also do my own research looking for unique bison-themed products that will appeal to our consumers" , Taylor said.
We have so many memories that are very unique in many ways.
Pat Taylor, Director and Buyer, National Buffalo Museum Store
According to the museum's executive director, Ilana Xinos, the museum shop accounts for 20% of the museum's overall revenue. Xinos said most of the sales came from in-person shoppers.
"I would say it's mostly tourists," Xinos said. "We have a small percentage of local customers who come. I would say it must be 95% tourism. Our busiest months are April, May, June, July, August and September. Tourism months, so our main customer is a tourist.
People don't have to pay museum entrance fees to shop at the store. The store is a place where people can buy unique items outside of the normal gift shop products, Taylor said.
"We have an awful lot of memories that are very unique in different ways," Taylor said. "One is the style of this one, it's all buffalo themed. Some of them are carved out of buffalo horn or hand painted and crafted and that kind of stuff. I think this are some of the specials that I'm very happy to buy in. New stuff like Jamestown t-shirts, bison t-shirts and that kind of stuff, it's really good for our tourists.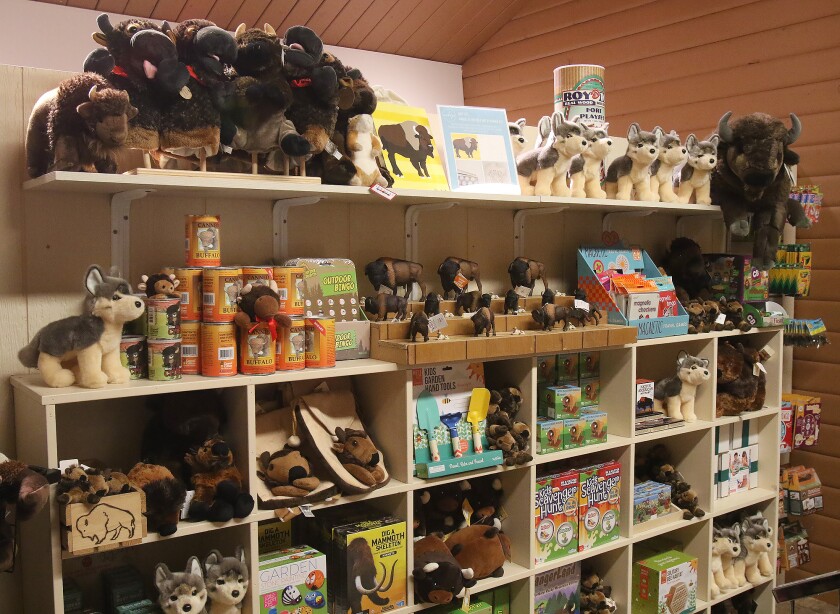 Before the museum hired Taylor, Xinos also acted as a buyer, which she says helps her answer any questions Taylor might have.
As the season moves closer to spring and summer, Taylor said she's been increasing the amount of product she buys and bringing in new items for the store.
"I'm looking for more wholesalers and ordering different types of items," Taylor said. "I just got some really neat buffalo head slingshots for the kids. So this is going to be a new item for us that we are adding to inventory.
Since Taylor has been at the museum, she said she has been traveling and setting up booths and other conventions to sell items.
"We've done quite a few trade shows," Taylor said. "There was the National Bison Convention in Denver and the sales were great. That was January, and then last month we went to Rapid City and had the Dakota Territory Bison Association convention there. We set up a stand with items from our museum store and were very successful there for sales."
Taylor also recently attended the Minnesota Bison Association show.
—————————————————————————
National Buffalo Museum Shop
500 17th Street SE
Hours: 10 a.m. to 5 p.m. Monday to Saturday; 10 a.m. to 6 p.m. daily from Memorial Day to Labor Day